About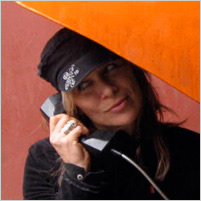 Erika Bauer (Contact E.B.) is an interactive design pioneer with twenty-five years of combined experience in mobile design and web design & development including twelve years of experience helping people in diverse industries create a solid interactive-visual presence, fifteen years of media industry experience and over four years experience as an digital media design instructor.
Starting her interactive career at IDG's Publish Magazine, from 1996-99 Erika lead the magazine's initial web site development. Since launching her business, e.b.Studios, in 1999, Erika has designed and built world-class, dynamic web sites for a variety of clients including The Buck Institute for Education, Yahoo! USA, and E*TRADE. She has also developed user interfaces for a new search engine, and new software for companies such as Kosmix Corporation, Ekomi and Linkify.
From 2007-2009 she worked with an international team, designing and prototyping user interfaces for mobile music software - targeted for the Symbian and Android OS and the Asian market. She also worked on a large web-based, SMS ad-campaign management application for a San Francisco start-up. Additionally, she has prototyped iPhone application designs, new tele-social management tools, and upgraded previous client sites to web 2.0/ social-web standards.
More recently, from 2009-2010 she worked on the UX and UI design of the content management application for Xperia Play, the first PlayStation Android smartphone. From 2010-2011 she worked with Barnes & Noble's digital products team in Silicon Valley - as part of core product launch teams for NOOK Color, the NOOK Tablet and the All-New NOOK (the latest, touch eink reader). As of December of 2011, she began working in with Amazon and the Kindle Content team in Seattle, Washington.
Erika's user-interface design is enhanced by ten years of creative and technical writing experience, and art & online design training at schools including California College of the Arts, The California State Universities Fresno and San Francisco, The Center for Electronic Art, and The Ojai Digital Arts Center.
Teaching background: From 2001-2005, Erika taught web design & development classes in the Bay Area. For two years she was an instructor at Ex'pression College for Digital Arts in Emeryville, California where she helped author the course curriculum for "Interactivity & Screen Design". In 2005 she taught Photoshop CS as an Adjunct Professor in the Digital Media program at Chabot College in Hayward, California.

Specialties:
user experience design, mobile design, interaction design, visual/ UI integration, project lead
Recent Testimonials from clients and colleagues
"I've worked for Erika on multiple projects and I recently contracted her to help refine the user experience for future versions of our Cooking Capsules application, our award winning mobile app currently on the Android Market. My experiences working with Erika over the years have been nothing but rewarding and positive. She possesses an unusual balance of creative, communication and technical skills and an unwavering work ethic. I recommend her without reservation." October 27, 2008
Mary Ann Cotter, CEO, Smart Capsules, Inc. - Maker of Cooking Capsules.

"Erika is an excellent, professional UX designer and a delight to have on the team. She easily flowed back and forth across projects (and platforms) while never missing a deadline. Her skill and attention to detail evident in all her work -- from IPhone concepts, Web UI design & production to larger mobile/web interfacing application design. She will be an asset to any company." March 19, 2009
Ronna Tannenbaum, Design Director, Kadoink Inc.

"Erika's sense of style, work ethic and desire to succeed are some of her most outstanding qualities. During her tenure at Kadoink her work was outstanding. She was loved and respected by her team and her execution on UI and Graphics was flawless. I have no hesitation in recommending Erika to any organization in need of her significant talents." March 17, 2009
Mark Robinson, Vice President of Product Management , Kadoink Inc.
"I have worked with Erika over the past year. She is very good at what she does -- User Interface / User Experience design and the art that goes with it. She created a pretty sophisticated UI / UE for a music service that Catalyst Mobile developed (both for Mobile and PC based products). Its been a pleasure working with her." October 30, 2008
Utpal Thakrar, Director of Product Management , Catalyst Mobile
"Erika was hired to redesign the web site for BIE (Buck Institute for Education) after a competitive RFP process. She transformed the site from being a dull brochureware to one that is visually appealing and highly interactive. Her superb design sensibility, great project management skills, and overall professionalism made her such a joy to work with." October 29, 2008
Julie Mai, Previous Web Manager, BIE
"Erika came to me highly recommended by colleagues in the PR industry. She did a truly superior job helping to develop an entirely new website design for my client. She combines excellent technical chops with a keen design sense, THE critical combo for effective website design. I recommend Erika unreservedly." October 28, 2008
Spencer Horowitz, PR Consultant, Technical Writer
"Erika is positive and creative and worked hard to give us the design and features we needed in our website. I recommend her work highly." October 27, 2008
John Mergendoller, Executive Director, Buck Institute for Education
"I worked with Erika on several projects, including a long-running one for the Buck Institute of Education. She was always extremely professional in her work and attitude, and was very popular with our clients. She always delivered work in a timely manner, and was very creative in the various options she would present to the client." October 27, 2008
Alan Early, Freelance Web Contractor